So, Day Three of the Organised Housewife's 20 Days to Organise & Clean Your Home Challenge. I am exhausted today so I'm very proud that I actually got most (if not all) of the tasks done. Once again, I only got about 3 or 4 hours of broken sleep last night and that was including sleeping in and waking half an hour before Lily's swimming lesson started. I managed to have an hour and half nap this afternoon but made sure I got most of the cleaning done first.
Clean
We were in the laundry today. As I've said before, our laundry is basically outside – just a shed put on the back of the house. There is only a gate sort of door on it so a lot of dirt and leaves etc blow in. I occasionally sweep the floor and wipe down the benches but it almost feels useless as it's just dirty again the next day.
So, today Mr Monkey put the clean nappies away that were hanging on the racks and hung the load of linen out for me. I cleaned the sink and then wiped down the outside of the washing machine. I sorted through the dirty washing that was in the basket on the floor (from the bathroom). I put the piles in to the empty washing baskets while I wiped down the bench and top of the freezer and then replaced them in "tidier" piles on the benchtop.
The mess on top of the freezer is a pile of tiles from our kitchen floor. We still haven't had the floor retiled so we're not sure if those tiles are still needed. I would love to get rid of them but they will have to stay until this issue has been sorted out.
Declutter
Once the dirty clothes have made their way from the baskets in the bedrooms and bathroom out to the laundry I sort them in to piles of blacks, colours, whites and towels. I would like to have baskets to put them in but we haven't been able to afford it (I have a voucher for Howards Storage that I'm hoping to use for baskets but I haven't had a chance to get there yet). So, the benchtop will have to do for the moment. So, not much decluttering to do in this area – I just sorted the dirty washing that was there today.
Organise
I don't really have a laundry routine and I don't feel we need to at the moment – we don't have any real need to wash on certain days (school etc). Mr Monkey has enough work pants that I only need to make sure there is a load of blacks every few days (his work washes his chef jackets for him). I tend to just make sure that I get at least one load of washing done a day and that nappies are washed every two to three days.
New Habit
I think I'll add "put a load of washing on" to my morning routine – if I put it on before having breakfast or before taking Lily to school it should be ready by the time I have to do some of my cleaning tasks. I would put it on in the evening but it's normally not warm enough overnight to dry and quite often rains. However, I could put it on in the evening and put it on a delay so that it actually washes first thing in the morning.
5 minutes
I didn't do the 5 minute task today – "Polish or dust 2 pieces of furniture". I'll try to do it tomorrow.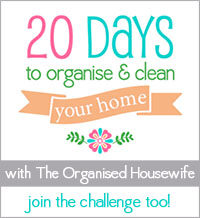 Related posts: