Click here to download my Weekly Plan / Meal Plan Template
Please let me know if you use it and what you think! If you have any requests or suggestions I'd love to hear them.
Meal Plan:
——————
♥ Monday – Dinner at Grandma & Grandad's house
♥ Tuesday – Sausages, Cauliflower mash & veggies
♥ Wednesday – Rosemary Chicken with Warm Bean Salad
♥ Thursday – Spaghetti Bol
♥ Friday – Spinach, Tomato & Feta Frittata
♥ Saturday – Homemade pizzas at Granny's house
♥ Sunday – Fish & Green Prawns at Granny's house
Fairly quiet around here for most of the week. If I'm smart I'll use most of it to do some housework. But we'll see how that goes!
Monday we have Lily's swimming lesson then I'm off for a Growth Ultrasound to see how the baby is going since my Gestational Diabetes diagnosis. Then we're heading out to the in-law's house for the afternoon and dinner.
Tuesday, Wednesday and Thursday will be as usual. Friday, Lily would usually have school but as it's Good Friday the centre will be closed. I think I'll have to find something special for us to do so she doesn't miss it too much.
On Saturday we are going to a special PR event at the Aquarium and then heading down to my parents' house for the rest of the weekend.
For meals this week, I'm still still trying to find meals that are low-carb but at least I'm not having to find a week full of Meat-Free recipes again! I'll be posting about that later in the week but beside the original meal plan and a moment of forgetfulness at the conference I found it very easy to go a whole week without meat.
I had found this recipe for Cauliflower mash, and it seems like a good lower-carb alternative to mashed potatoes. We have some sausages left in the freezer so will simply pan fry a few of them. I'll probably only be able to have one, but I'll just have to make sure to cook a lot of veggies too.
Rosemary Chicken with Warm Bean Salad is from the April 2013 edition of Healthy Food Guide Magazine. The great thing about this magazine is that it includes the nutritional information about each recipe which makes it much easier for me to work out the carb serves, instead of having to estimate it myself. They also have a little tag on recipes that say "diabetes friendly". Easy! This chicken recipe sounds yummy and looks quite easy as well.
Good old Spaghetti Bol for Thursday night (more mince then spaghetti for me) and the Spinach, Tomato & Feta Frittata that we were supposed to have last week but I didn't end up cooking.
What's on your meal plan this week?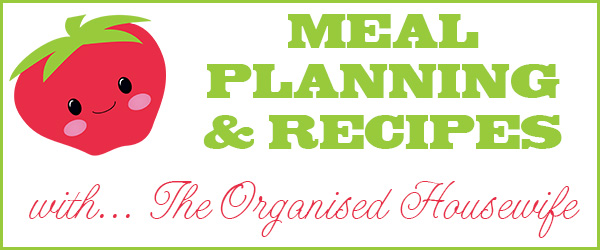 Related posts: