Click here to download my Weekly Plan / Meal Plan Template
Please let me know if you use it and what you think! If you have any requests or suggestions I'd love to hear them.
Meal Plan:
——————
♥ Monday – Dinner at Grandma & Grandad's House
♥ Tuesday – Beth's Chicken Noodle Soup
♥ Wednesday – Meatloaf & Mash
♥ Thursday – Baked Gnocchi
♥ Friday – Slow Cooker Curried Sausages and brown rice
♥ Saturday – Fish chimichurri & pasta
♥ Sunday – Steak with Béarnaise Sauce and chips
An interesting week here this week – Mr Monkey is off work all week. Actually, for the next 2 weeks. He fell on some steps in the rain the other week and had a rather impressive bruise and bump on his forearm and a very sore hip and leg. He went to the doctor who sent him for an x-ray in case he had cracked the top of his femur!! Thankfully the x-ray came up clear so the doc just thinks it's ligament damage. It's all through Work Cover so he put him on 2 weeks of light duties – half shifts. However, his work doesn't believe that's possible so he's been told to take the two weeks off. I suppose it's good as he gets some rest and Lily gets to spend more time with him but he's a bit worried what he'll come back to.
So, in other words, I have someone else to help cook dinners this week! He's actually been off since last Friday (with days off Wednesday & Thursday) but somehow I seemed to have cooked most of those dinners. Not fair. He's cooking dinner tonight as I'll be at the Buddhist Centre and hopefully I can rope him in to do a few more.
Tomorrow Lily has her swimming lesson in the morning. We decided to do a special make up lesson with her last Thursday as she had missed one while we were at camping. It was with a different teacher so we weren't sure how'd she go. It started off great. She was actually in an older aged class but the teacher seemed to know she was younger and tailored the lesson for her. She was participating without any problems until about half way through when she started crying and screaming for Daddy. She spent the rest of the lesson crying and saying she didn't want to do it anymore while the teacher tried to get her to swim a little. I'm glad we kept her in for the rest of the lesson but it was heartbreaking seeing her cry like that. When we got her out and calmed her down it turned out water had gone up her nose and she didn't like it. Sigh. Hopefully tomorrow is better.
As my time at the Buddhist Centre has changed to Sunday afternoons we are going to try going to the in-law's for Monday night dinners. When Mr Monkey is back at work we'll have to make sure not to stay too late as he has work on Tuesday but it should be fine this week.
We ended up having leftovers last night for dinner instead of the Satay Tofu I had planned. We're having that tonight so I've moved the Chicken Soup to Tuesday.
Not much else happening this week – I went through my Pinterest recipe board to find some meals for this week. There's Veggie Mama's Baked Gnocchi which looks simple and tasty. I've wanted to try BabyMac's Tuna chimichurri for awhile but Mr Monkey believes I shouldn't really eat tuna steaks while pregnant so I'll find another fish to cook with it. We're also having a few potato side dishes this week so I changed it to go with pasta. While putting the plan together I suddenly felt like a good pub meal of Steak with Béarnaise Sauce and chips so I've planned that for next Sunday. Can't wait!!
What's on your meal plan this week?
Linking with: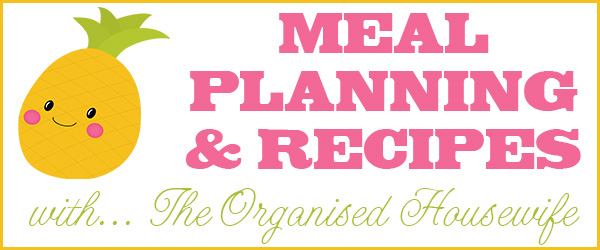 Related posts: