Click here to download my Weekly Plan / Meal Plan Template
Please let me know if you use it and what you think! If you have any requests or suggestions I'd love to hear them.
Meal Plan:
——————
♥ Monday – Dinner at Grandma & Grandad's house
♥ Tuesday – Tarragon Chicken Linguine
♥ Wednesday – Slow Cooked Corned Beef, mashed potatoes and veggies
♥ Thursday – Roasted Salmon & Mexican Salad
♥ Friday – Dinner out for Mr Monkey's birthday
♥ Saturday – Vegetable 'fettuccine' with fresh tomato sauce
♥ Sunday – Dinner out for Mr Monkey's birthday
Busy couple of weeks coming up. Which is great seeing as this baby is due at the end of the month! We really didn't plan things well…
This week starts with my Mum's birthday on Monday, however we're celebrating with her today with a late lunch. We'll be heading out for our usual Monday night dinner at the in-law's house after Lily has her swimming lesson in the morning.
Tuesday is just a quiet day at home and probably doing the grocery shopping. I decided to try this Tarragon Chicken Linguine – I will just have to limit how much actual pasta I have.
Wednesday I have my appointment at the low-risk Diabetes Clinic. Hopefully it will be better than the utter mess that last week was – long story but it involved being at the hospital for 4 hours, seeing 4 different people, being told different things by everyone and then them losing my sheet with all my blood sugar results on it. Mum and Dad are coming up – Dad to look after Lily and Mum comes to the appointments with me. I'll put a piece of silverside in the slow cooker before we go and we should have a yummy meal by that evening!
Thursday Mr Monkey should be off work. I try to make our "fish" meal on his days off – I'm not overly confident cooking fish and I know it isn't too nice when reheated for his dinner later in the night. We've had the Roasted Salmon & Mexican Salad from the March 2013 edition of Healthy Food Guide before and I really enjoyed it. Plus, it's fairly low carb and easy for me to work out.
Friday is Mr Monkey's birthday. He'll be working during the day and Lily has school, then we are planning to go out for dinner with just the three of us. We haven't done that… well, in a very long time, if at all and I'm really looking forward to it. It will probably be the last chance we have to spend some time just with Lily before the baby comes.
Saturday is another quiet day at home. I've heard a lot about using zucchini as "pasta" so thought I'd give the Vegetable 'fettuccine' with fresh tomato sauce a go. I love pasta but of course can't eat too much of it at the moment so this may be a better, and healthier, option.
Sunday we are meeting up with our Mums Group for a picnic lunch and then heading out that night with family and friends for dinner to celebrate Mr Monkey's birthday.
So, that's our busy week. What are you up to this week?
Linked up with The Organised Housewife: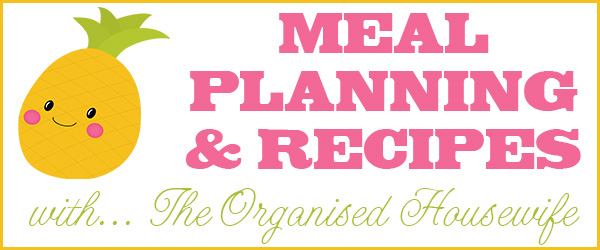 Related posts: